Green Gains: Making a positive impact on the environment
Sam Jones shares how Ground Control is helping clients accelerate the pace of change towards a sustainable world.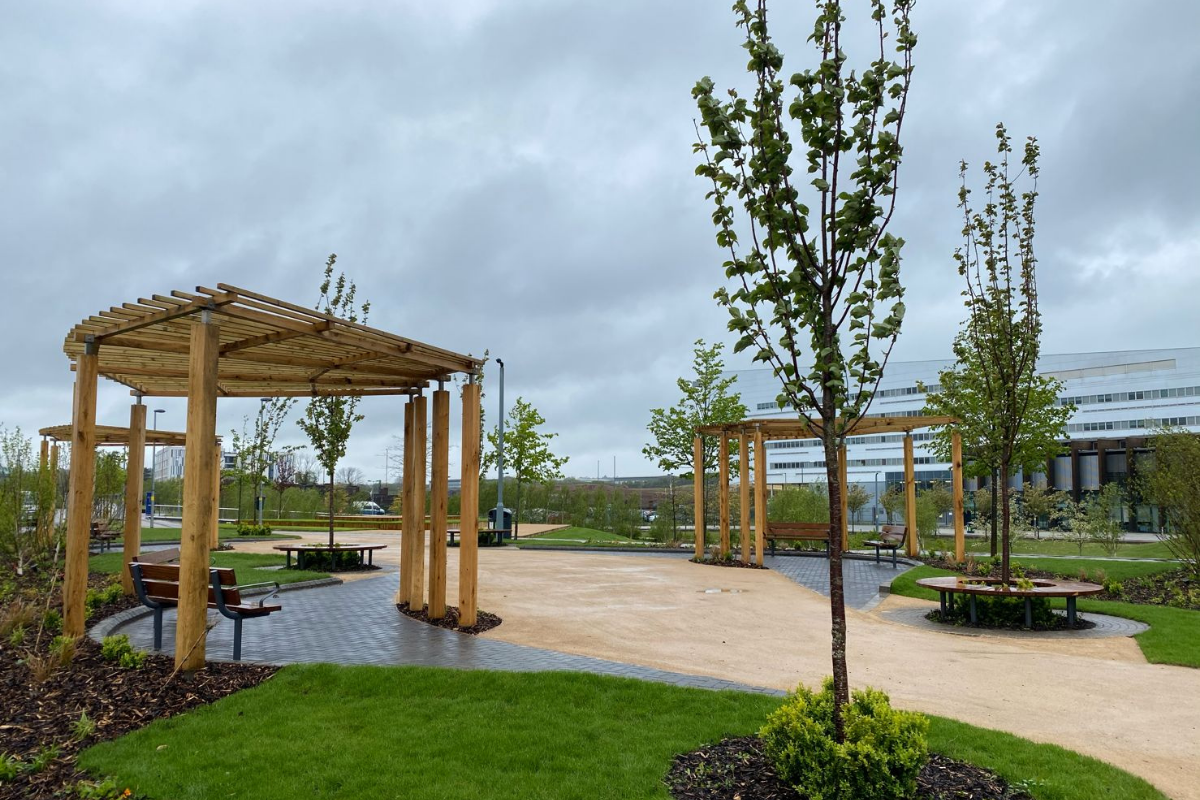 The way we treat our environment has huge consequences for the future of our planet. It affects everything from human health to the well-being of our wildlife. According to Jonathon Porritt, Founder and Director of Forum for the Future, a "governance shift" is occurring in the field of sustainability, with governments stepping back and businesses stepping forward to help address the climate change emergency.
Evidence of this can be seen across a growing number of collaborative environmental programmes, each one designed to enhance biodiversity, reverse nature loss, and support the journey to Net Zero.
In partnership with Cumbria Wildlife Trust and Highways England we created 115 hectares of wildflower meadow habitat - a haven for bees, butterflies and other pollinators in Northwest Cumbria, all part of the Get Cumbria Buzzing Campaign & National Pollinator Strategy.
Working with St. Modwen Homes, we regenerated Longbridge town centre. The green space now supports biodiversity and community wellbeing with 46 new trees, 3,500 shrubs and plants, 6,500 bulbs, several species of wildflowers and bespoke seating for up to 80 people.
Further South, Ground Controls' design team and Thames Water ecologists teamed up to create a biodiversity garden. The garden seeks to demonstrate how different interventions can be used to encourage biodiversity and offer a precedent for operational site teams and managers to learn how these features could be taken away and implemented on other sites. The project includes a series of wildlife ponds, swales, habitat boxes and native planting as well as social & seating spaces encouraging the employees of the site to engage with the garden and wildlife. Educational opportunities have also been introduced such as pond dipping platforms for use by Thames Water on school visits to the site.
In London, we recently collaborated with Newham Hospital enabling Barts Health NHS Trust to realise the importance of green spaces in the community. Revamping courtyard gardens and revitalising outdoor spaces into retreats and places of comfort for staff, patients and visitors.
Working with Sovereign Housing we helped the housing association revitalise green spaces as a life support system for the community. Completed in 2020, Lockdown Woods is a new woodland of saplings. As it matures the woodland will help reduce the housing association's carbon footprint and become a wellbeing haven for the community.
Closer to home, Ground Control is also achieving remarkable things, giving back to the environment and taking purposeful steps to mitigate the environmental impact caused by our operations. As a carbon-neutral business our green aims are clear. We have removed single-use plastics from all operations and offices, and only source certified sustainable timber and timber-based products (e.g.FSC/PEFC). We will ensure that 100% of hand tools are battery operated by 2025 and have the largest Tesla electric vehicle fleet in Europe. We will phase out the use of higher emission fleet vehicles as soon as possible, and help every staff member who is not a company car driver to use an electric vehicle, if they want to, through the company fleet policy. Through the Evergreen Fund we will dedicate five per cent of annual profits to investments in carbon-reducing technologies and woodland creation, and in the past 12 months, we have invested £615,000 in six ventures and planted 42,000 trees in protected areas.
It was this activity to accelerate the pace of change towards a sustainable world - not just within our own business operations but also within thousands of client partner sites across the UK - which captured the imagination of Estuary Envoy Kate Willard OBE and led to our recent Thames Estuary Visionary award status.
We are extremely proud that Ground Control is leading our sector as a force of significant green change, not only within the grounds maintenance and landscaping industry but within wider industry and beyond. Since 2004 we have demonstrated how business can be a force for social and environmental sustainability. By focussing on science-based targets and evidence-based certification, we hope to lead by example and share our knowledge. Working together with housing sector partners to help reverse nature loss and support the journey to Net Zero.